Mortgage Matters: Planning to build your dream home?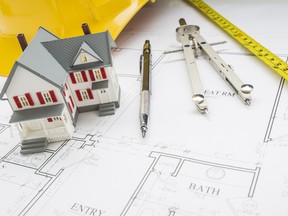 How not to let the experience become a nightmare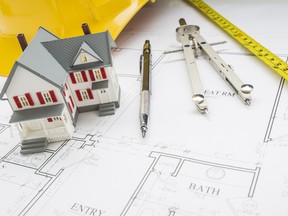 Reviews and recommendations are unbiased and products are independently selected. Postmedia may earn an affiliate commission from purchases made through links on this page.
Article content
Many Canadians are choosing to build custom homes with special features to suit their lifestyles and tastes. While building your own home can be a creative and exciting experience, there are some key things to consider in avoiding financial challenges. That's where seeking the advice of expert partners, including a mortgage specialist, is the first step in making this exciting journey a remarkable one.
Article content
The key to a successful construction project is for you and your contractor to agree up front on a detailed plan, line-item budget and timeline. Always ask for it in writing! Clearly written agreements and communication will ensure there are fewer surprises and unexpected costs.
Here are a few things to keep in mind:
Make sure the zoning of your lot allows for residential construction.
Find out if the builder/contractor is licensed and "in good standing" under B.C. Housing and a member of a recognized third-party new-home warranty program.
Professional builder/contractors are often members of organizations such as the Canadian Home Builders Association.
Have a good understanding of all the potential construction costs involved, including the following:
Article content
Engineer or architectural drawings for your home;
Site clearing and demolition of existing buildings if applicable;
Building permits, and permits for wells, septic systems, hydro and gas;
Course of construction insurance;
Landscaping, including lawns, gardens, fencing and patios;
Paving the driveway, including sidewalks.
Factor in a contingency budget of at least 10 per cent for cost overruns. Today, many residential contractors structure their building contracts as "cost plus." This means that the increased cost of materials and/or labour can be passed on to the homeowner.
Understanding the lender's funding requirements, along with your contractor's preferred payment schedule during each phase of construction, is vital. Most contractors require payments in stages, typically after the foundation is in, when framing is up, after the interior is finished and on completion of the entire project.
Article content
Getting the funds you need
Throughout the various phases of construction, your contractor will request funds from you to complete a specific job, such as laying the foundation. At this point, most lenders will send out an appraiser to inspect your home site and determine the amount of work that has been completed. The draw amount will usually be calculated based on this inspection to ensure enough funds are held back by the lender for the completion of your home.
It is important to note that your lawyer will hold back 10 per cent of each draw in compliance with the B.C. Lien Act. This government requirement helps ensure that tradespeople and suppliers get paid for work completed. Provided no liens have been filed against your property, your lawyer will release this holdback amount to you 55 days after the construction has been completed.
Article content
When it comes to construction mortgages, the solutions are quite varied and it is important to do your homework here. Some lenders only offer variable rate loans during construction, while others can also provide a fixed rate commitment.
Choosing the right lender may save you and your family thousands in interest charges.
Your home is one of the largest investments you will ever make. Protect yourself by working with experienced professionals that you can trust.
Randy Chin
RBC Regional Manager, Residential Mortgages
Follow Randy on Twitter @RBCrandychin
Instagram @rbcrandychin