Designer creates showstopping duplex with New York hotel vibes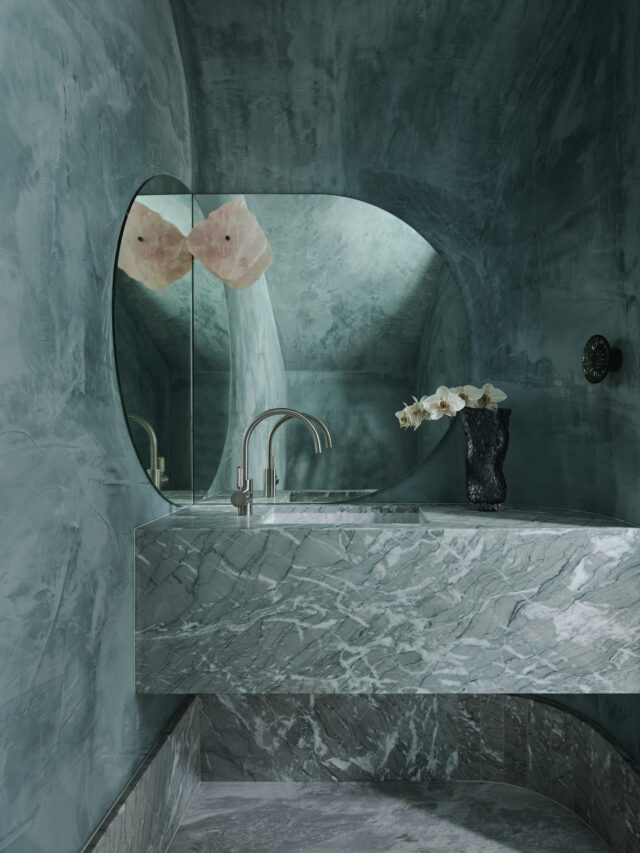 Today's stunning home, Mirror Image, showcases young interior designer Shona McElroy's natural inclination towards modern design with an old-world European edge. It's seen in her Venetian plaster walls, generous use of marble and herringbone floors.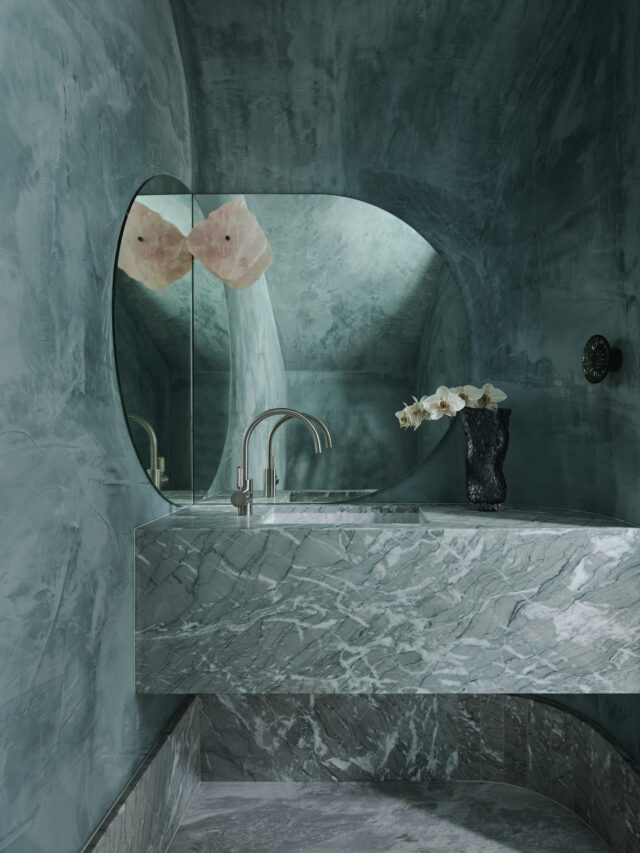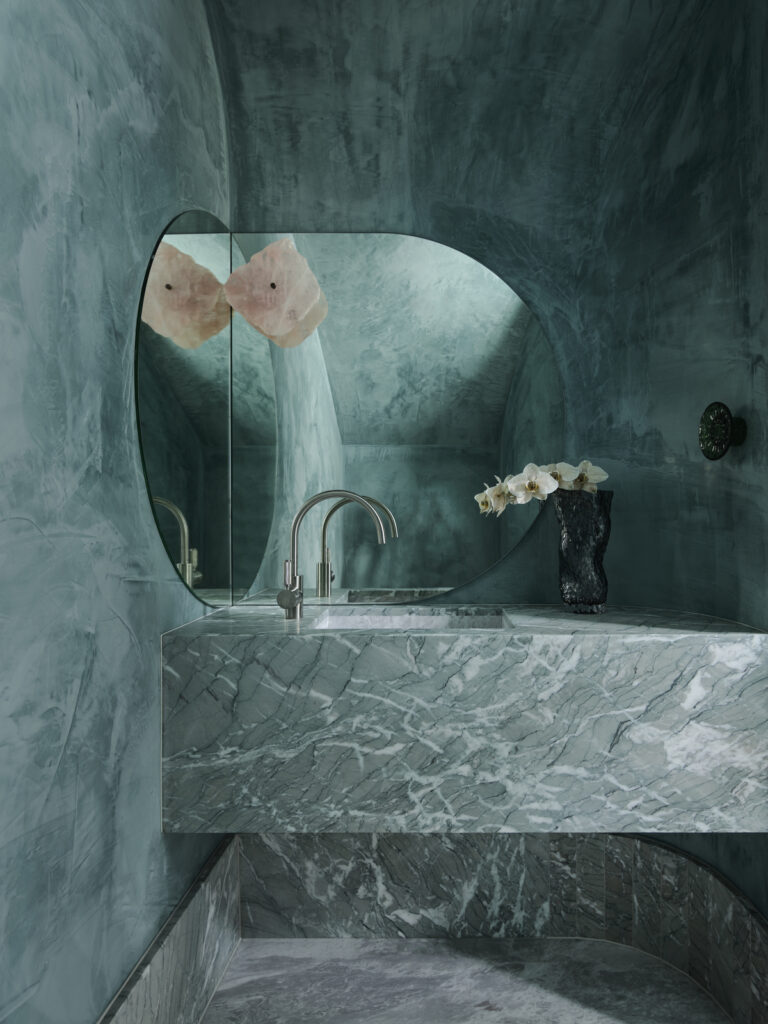 Acclaimed architect Madeleine Blanchfield, a judge for this year's Australian Interior Design Awards, for which Mirror Image made the shortlist in the residential category, described the house as "beautiful, thoughtful and artistic."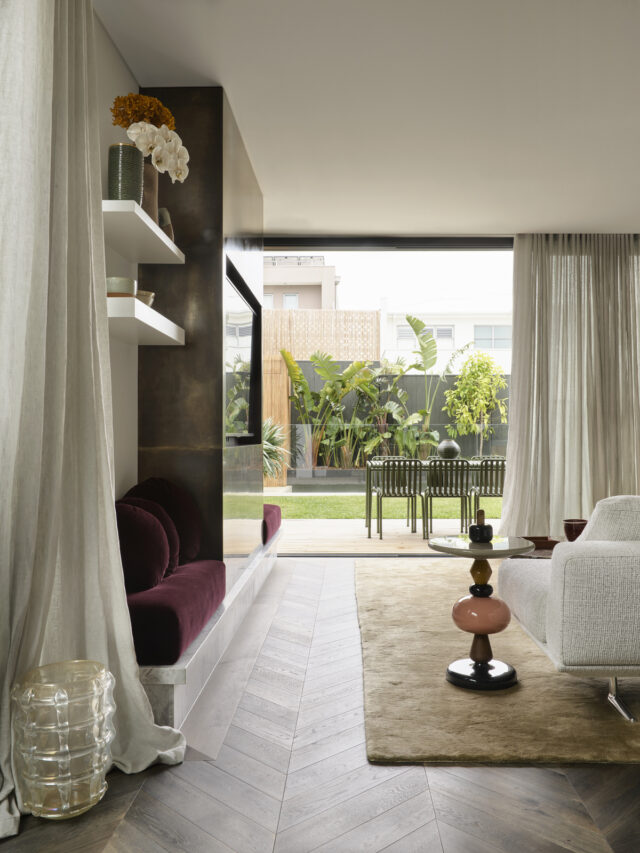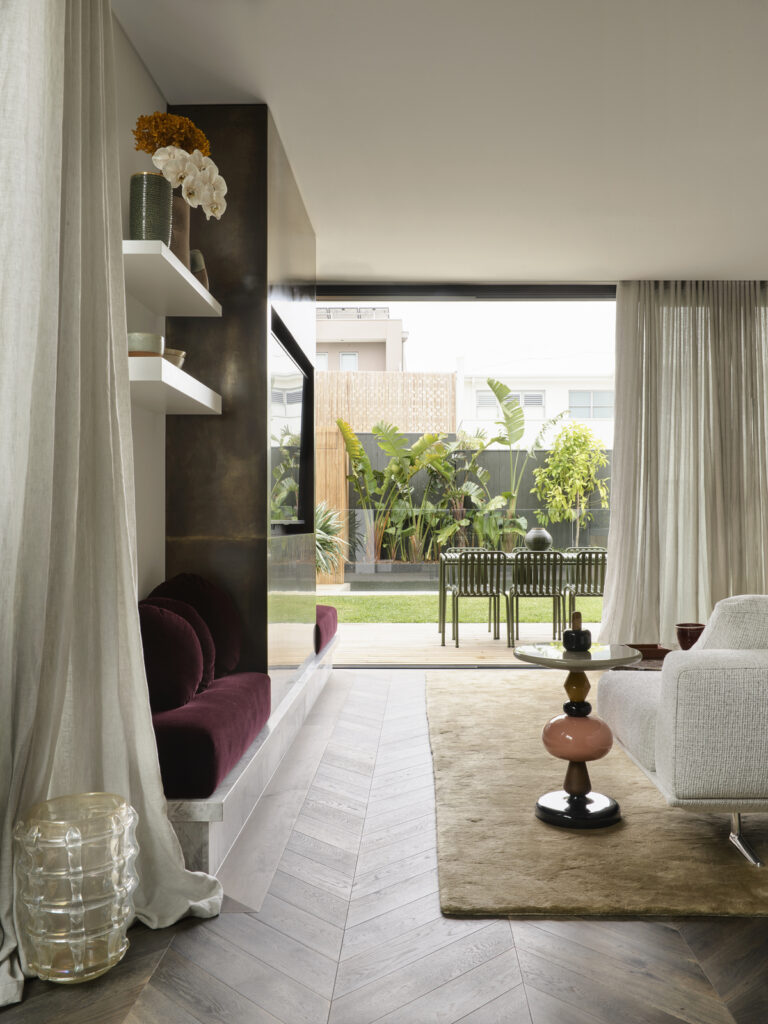 The owner, a property developer, says, "In my job I see a lot of stunning houses, but this is the first time I've been satisfied with what I have. I come home and think, "There's nowhere else I'd rather live."
Don't we all wish we could say the same?!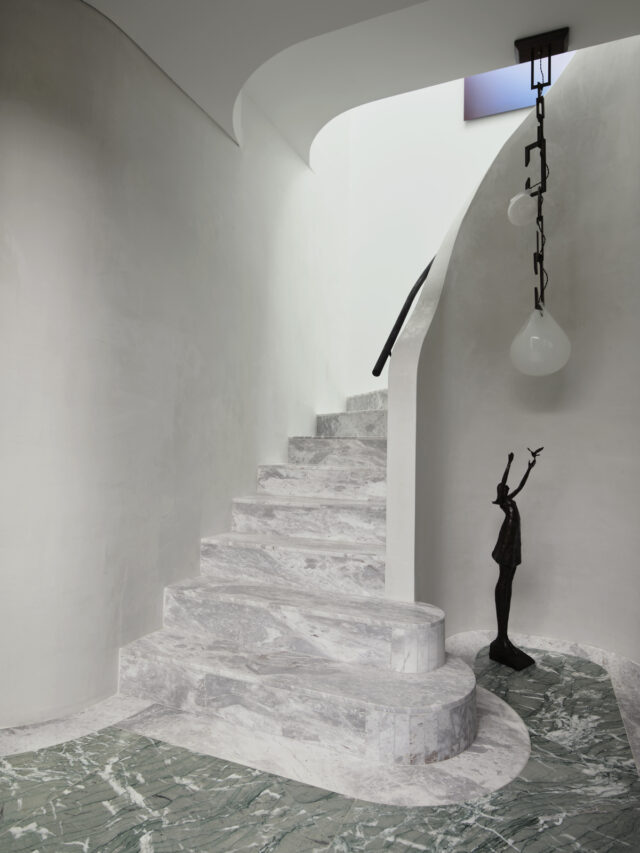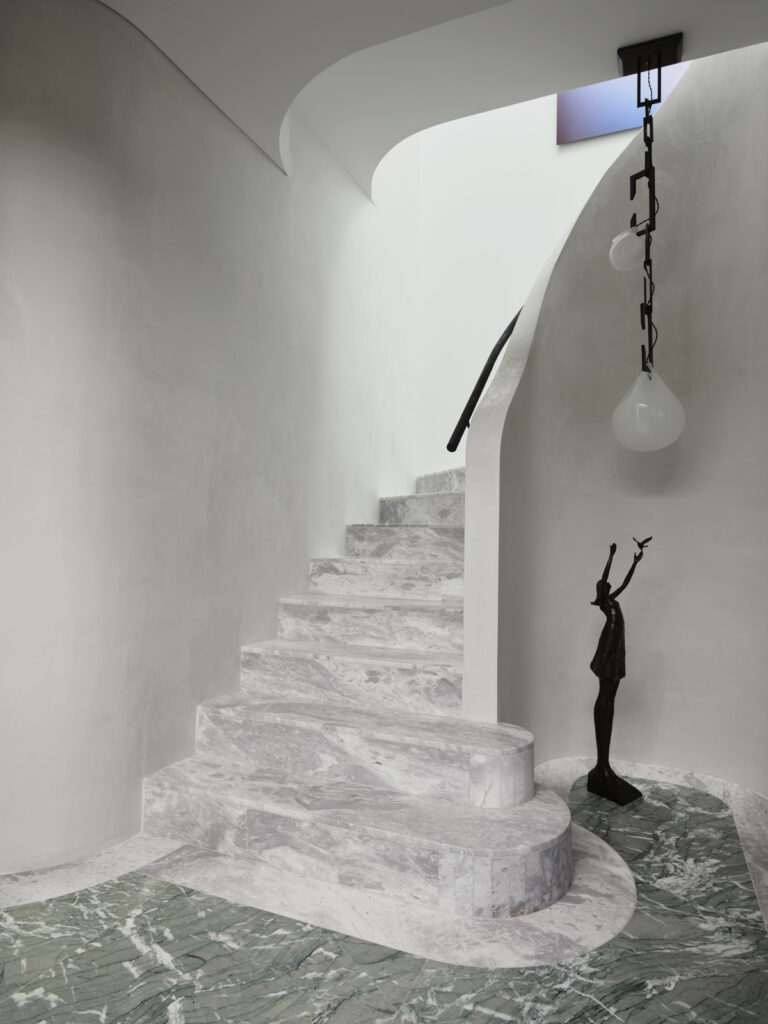 The owners' brief was "European, New York-style hotel," and they left Shona, of Smac Studio, to do her thing, having worked with her before, loved her style and how easy she was to work with. The end result is so refined and layered, it is hard to believe it's a new build.
The elegant Elba marble curved staircase at the entrance sets the scene, with the flooring in this space a solid slab of Verde Antigua marble. The owners very much wanted a defined entry to the home, rather than stepping straight into an open plan area.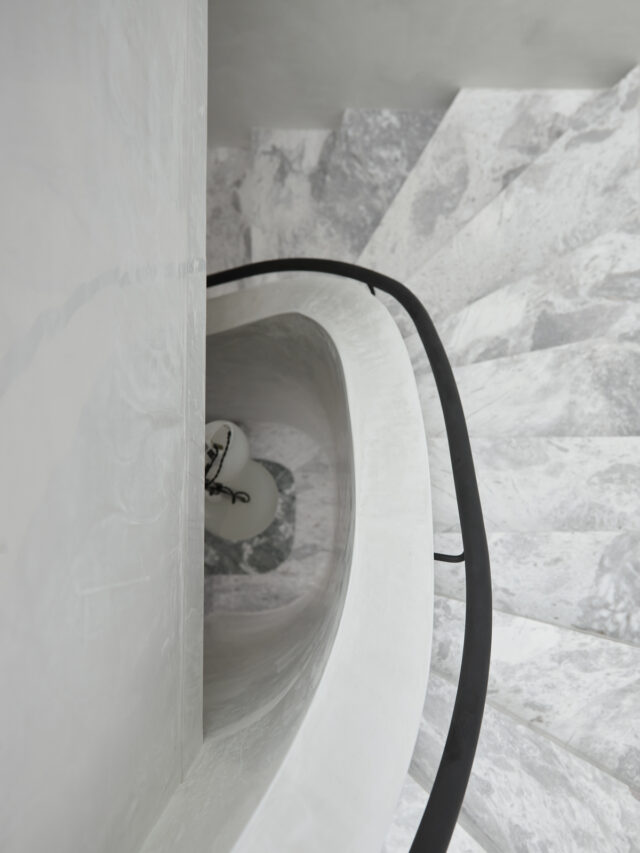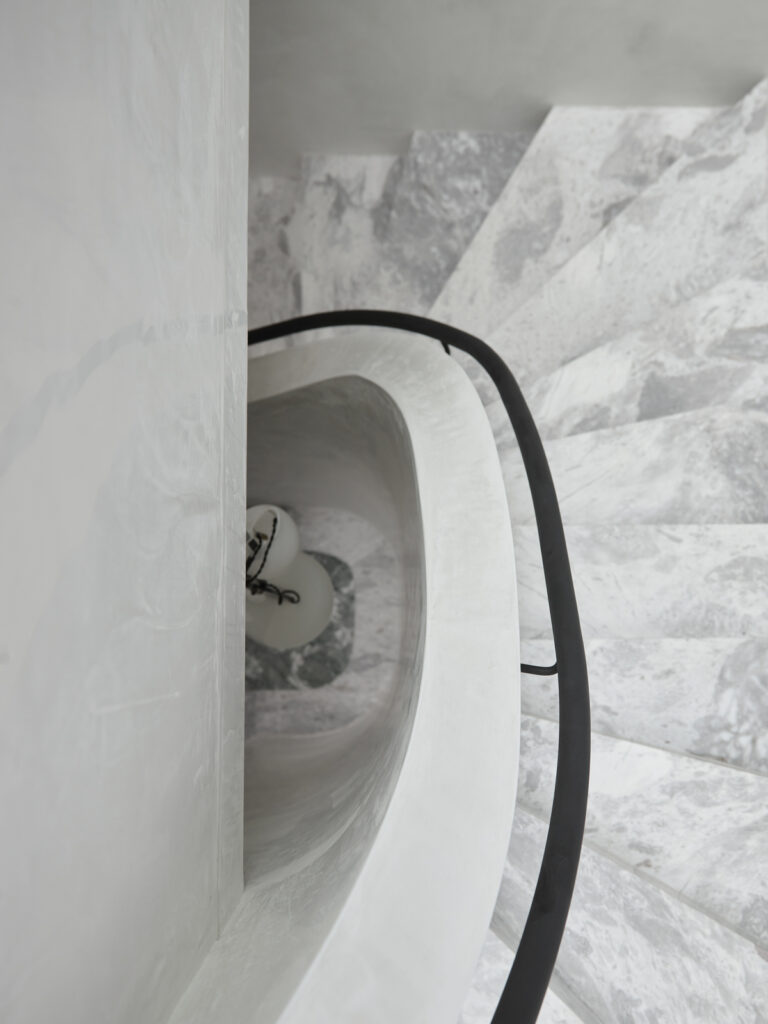 It's one of many striking features in this unique four-bed duplex in Sydney's Dover Heights, which features a moody powder room under the stairs with a curved ceiling.
In the kitchen, four can sit comfortably facing each other at the cantilevered island bench in Esmeralda quartzite, and the family love that they don't have to all sit in a line. Custom timber cabinetry with glass doors allows the owners to showcase art and photos, while complementing the herringbone floor.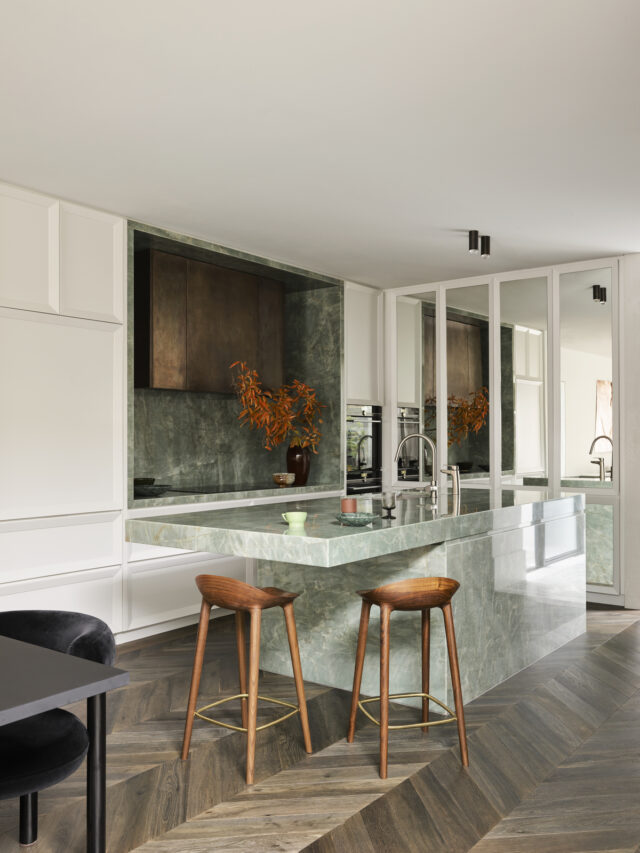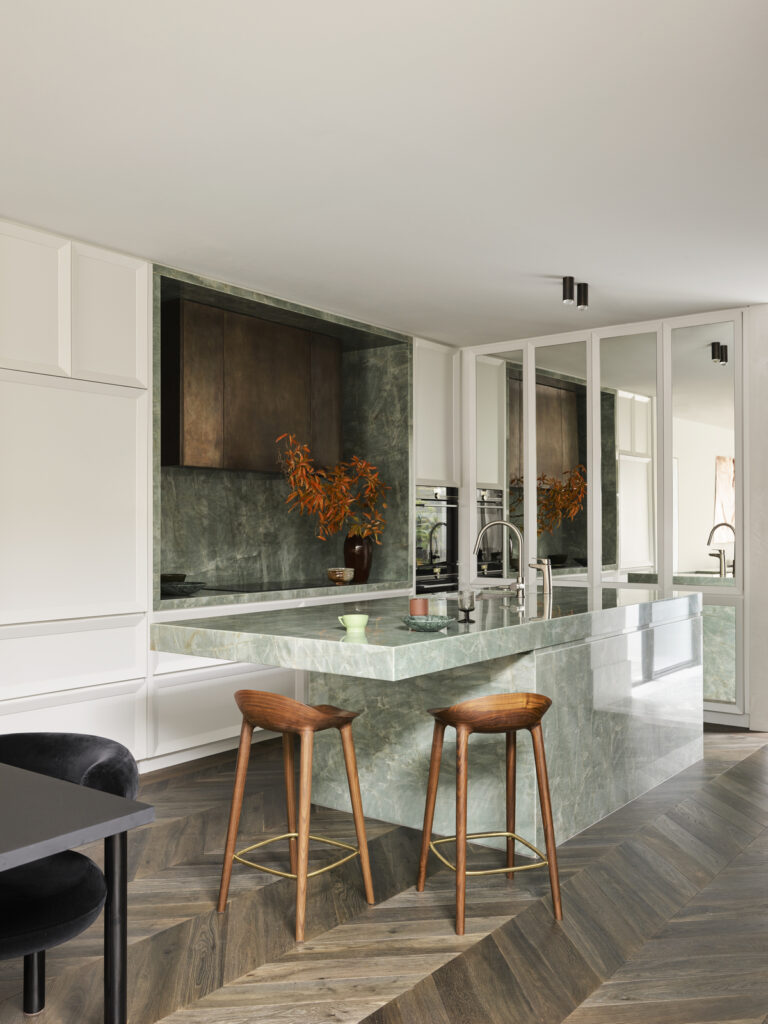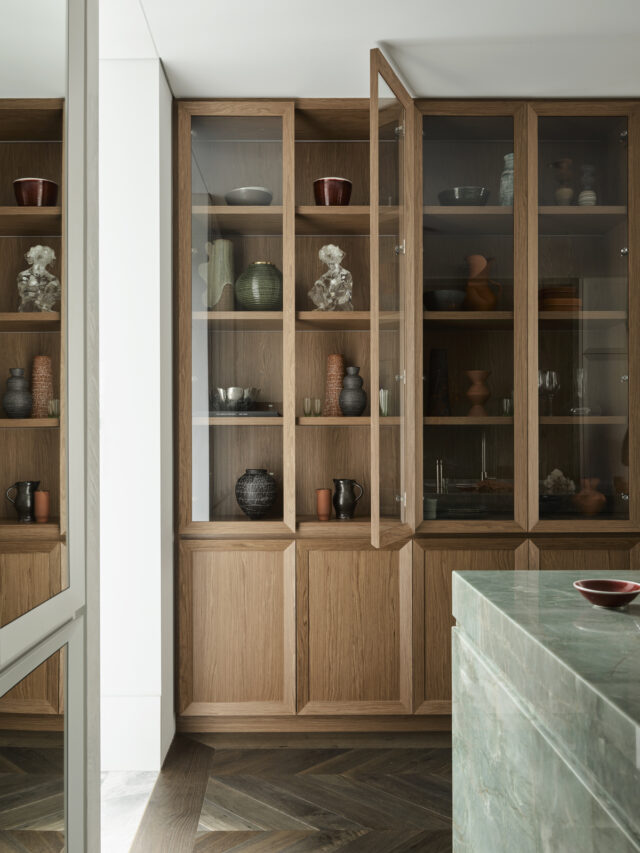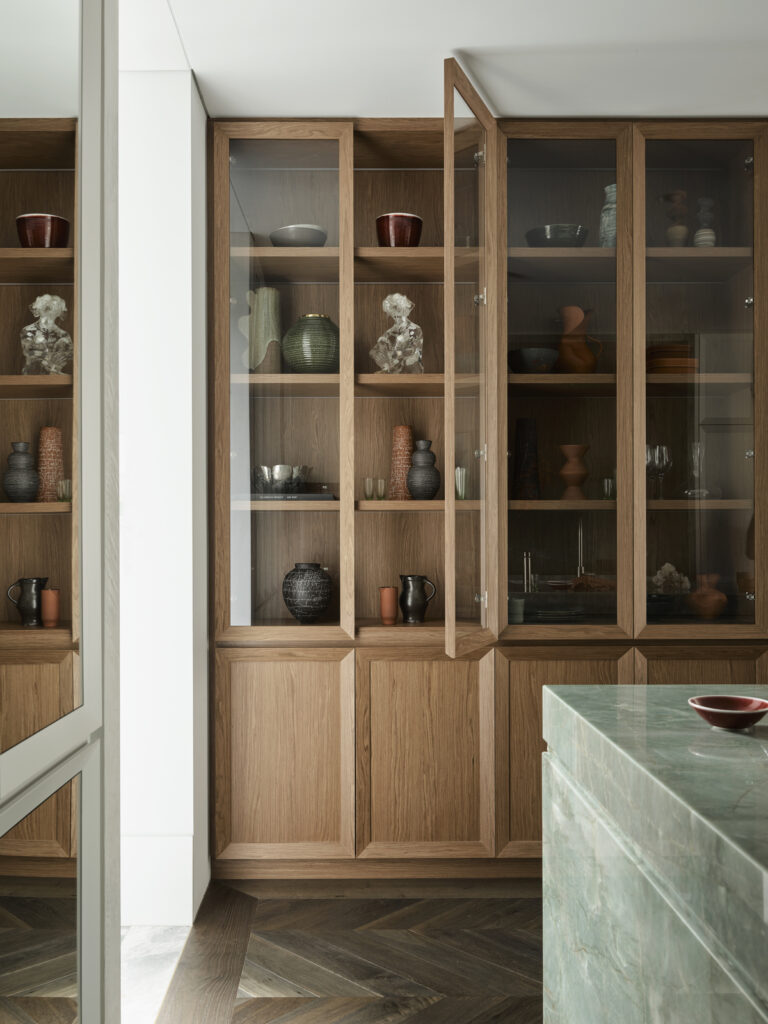 Several structural changes had to be made to create this vision. To accommodate the curved staircase the upstairs area was reconfigured and a void between the stair and skylight was added. Space was also borrowed from the entrance and the powder room due to the home's tight total width of less than five metres.
The kitchen was flipped to the shared-wall side of the duplex so a floor-to-ceiling, three-metre-wide window could be installed for natural light and a garden aspect.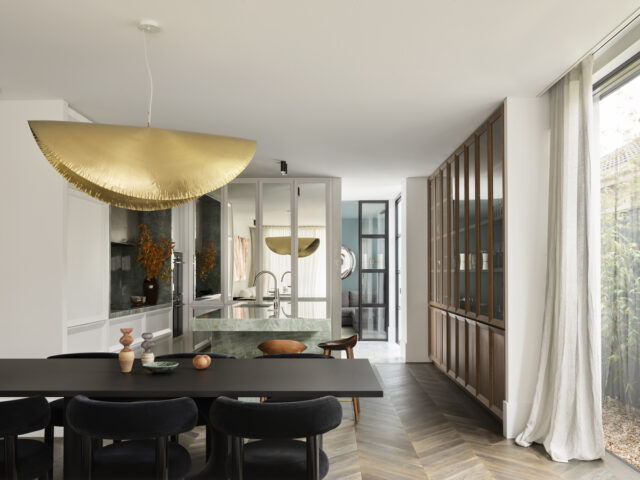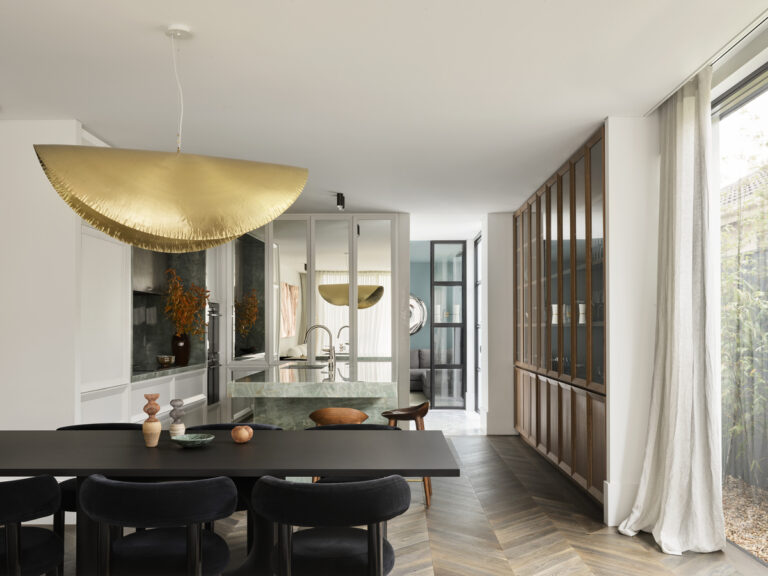 A playful thin brass pendant light by Gervasoni over the dining table ripples in the breeze and the solid burnished brass rangehood and television cabinet bring the glossy natural stone back down to earth.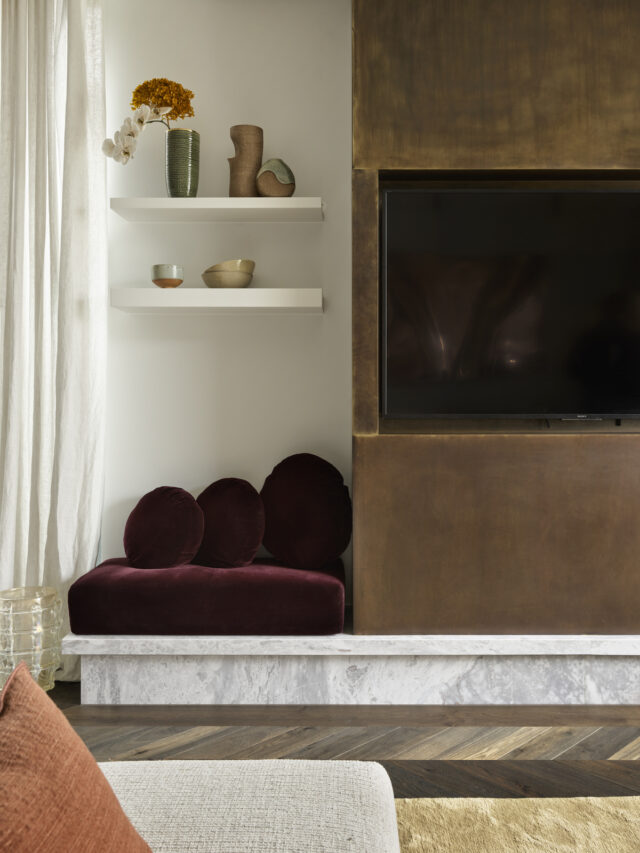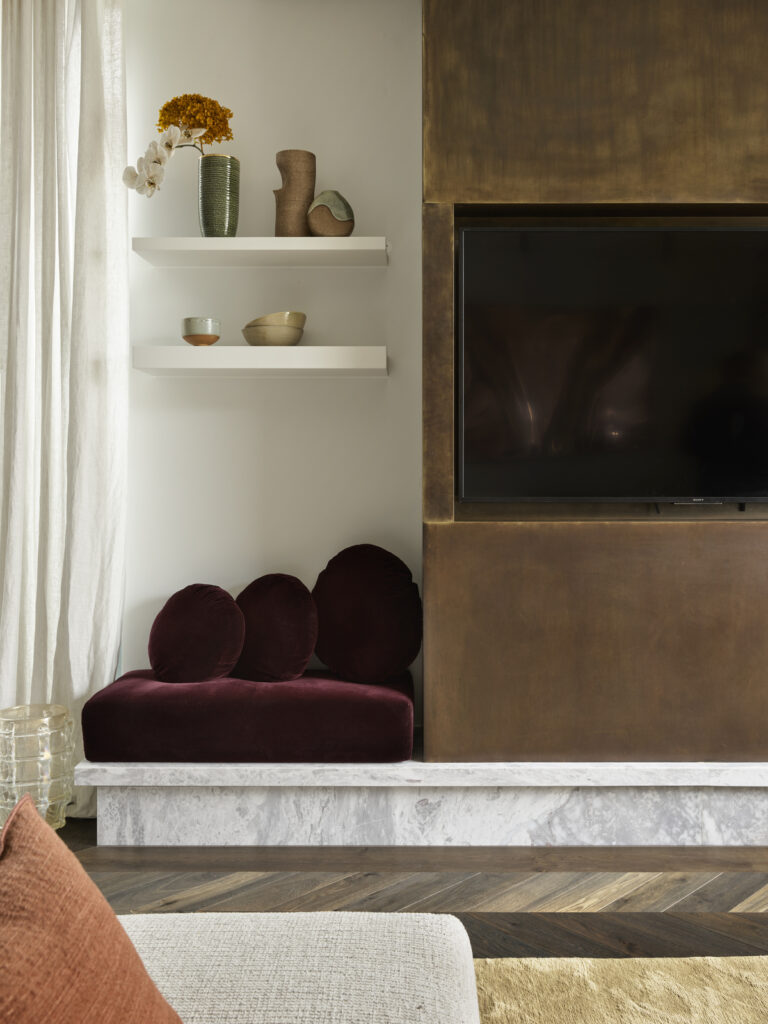 In the living room, the metallic tones continue with a 3D artwork commissioned from Anna Pesce.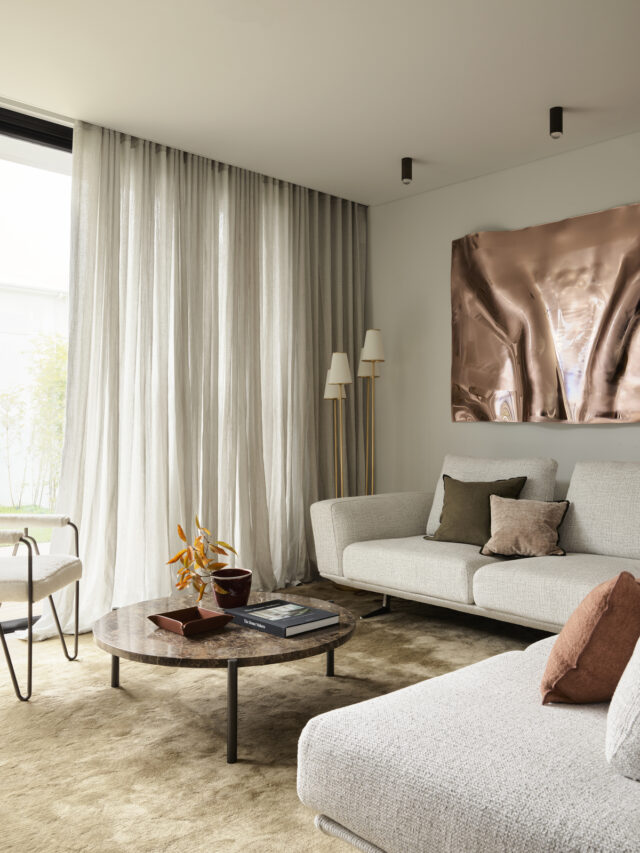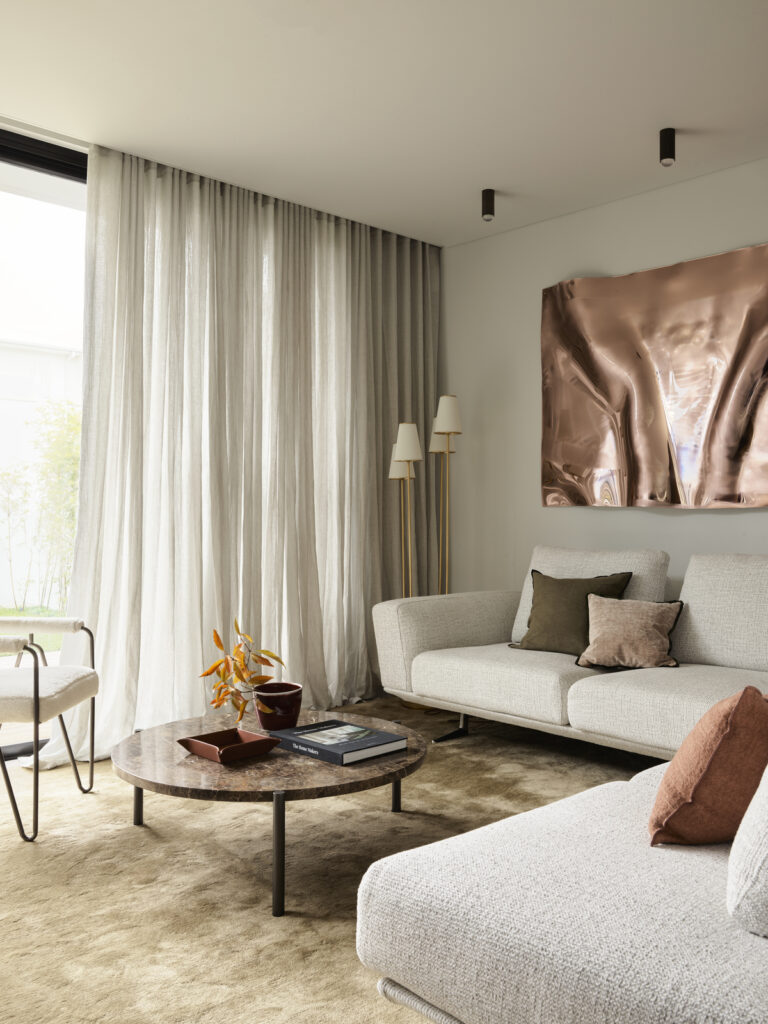 The entrance and open plan kitchen and living areas downstairs were separated with mirrored white shaker cabinetry that reflects light and functions as a mini butler's pantry (ideal for mess management given the couple have three young kids and many appliances).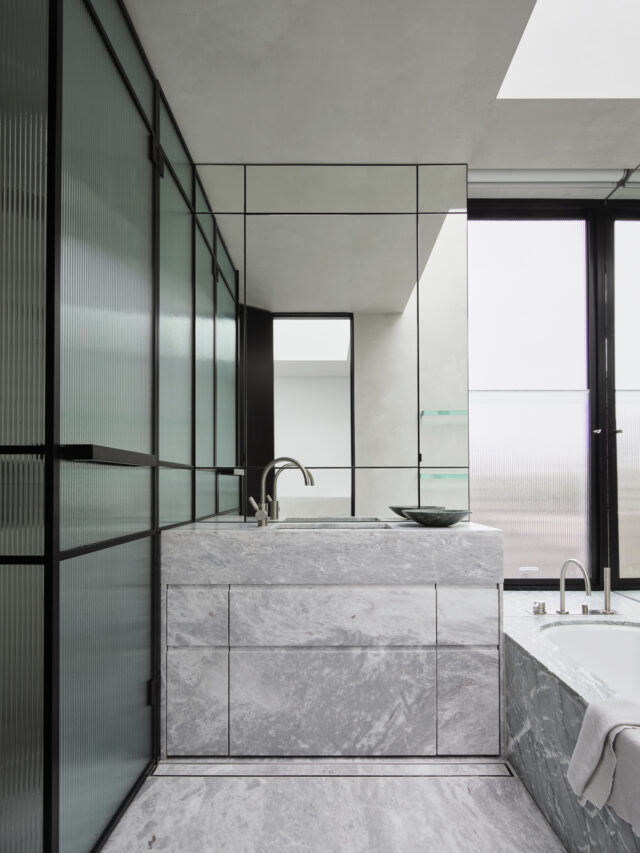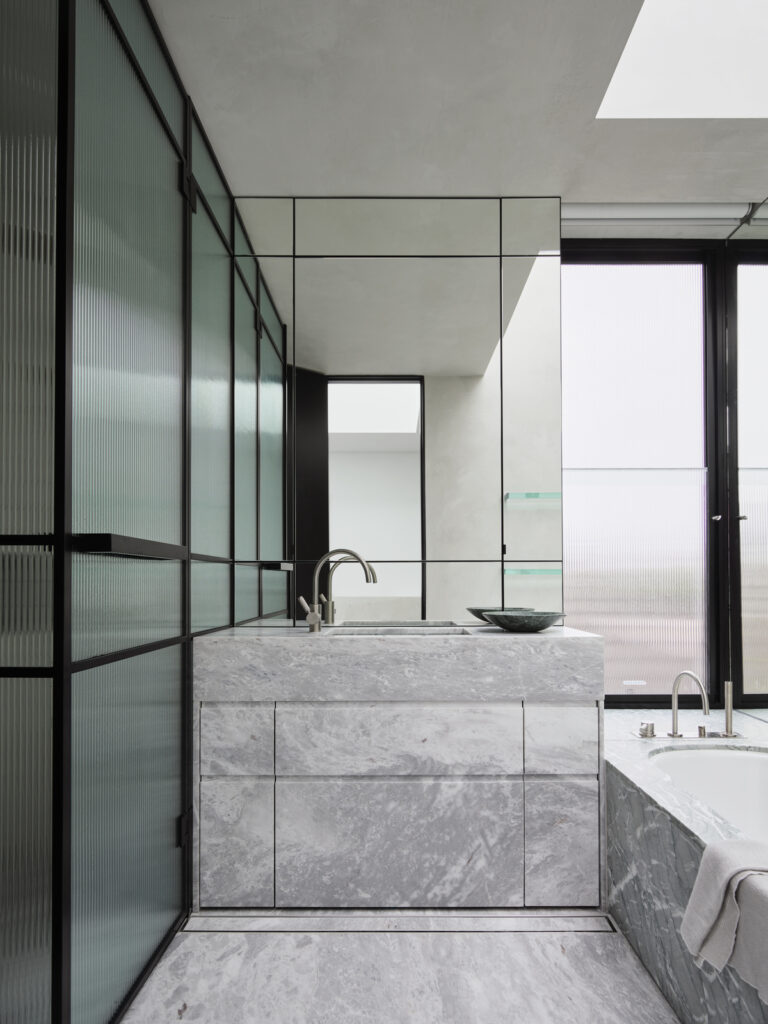 The powder room under the stairs ended up being challenging but ultimately, one of Shona's favourite parts of the design. "We really didn't want it to feel like it had been stuck underneath the staircase, but inevitably that's where we had to put it. It's like you're encapsulated in this big dark green Venetian plaster cave."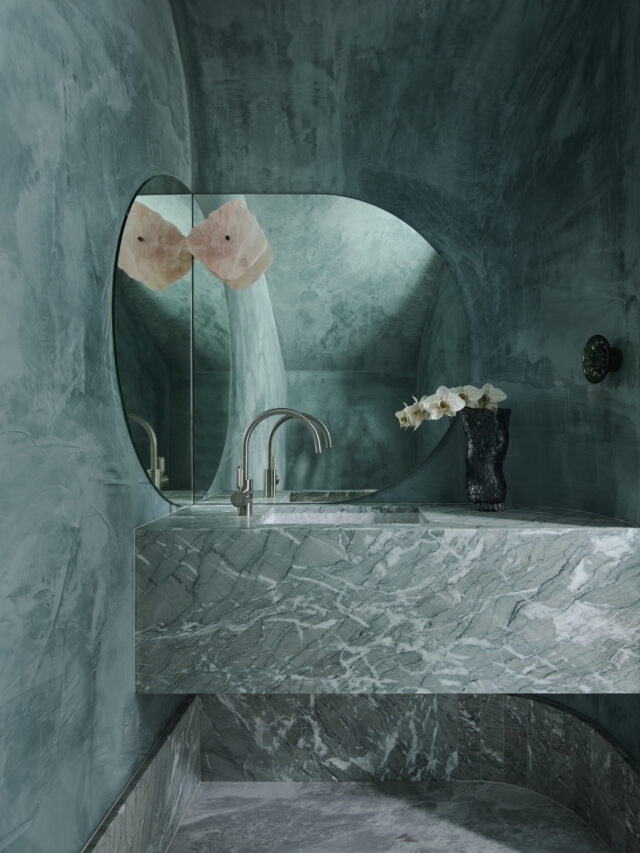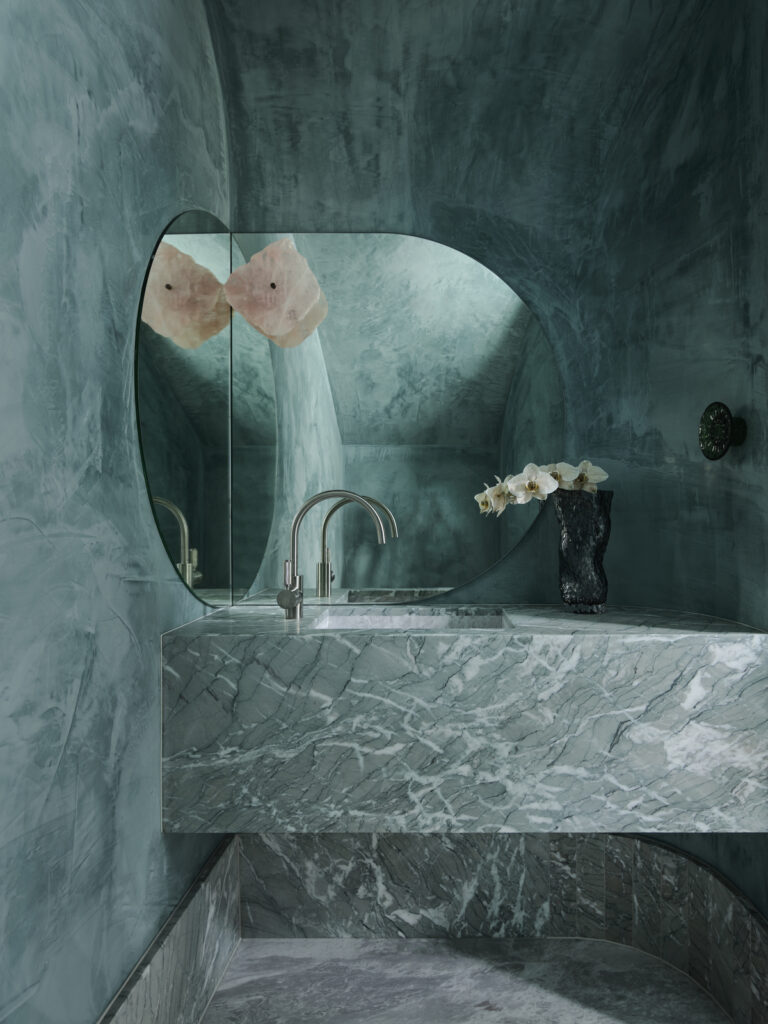 The entry was also a real triumph. "I think that to create an entrance in a house that narrow, to create such a formalised entrance, and separate public spaces from the private spaces, and to have it quite grand and just a sense of entrance, I think that was pretty incredible," she says. "A lot of the semis we'd worked on before had a staircase that cut through the kitchen or another part of the house and was almost like an afterthought. I like the idea that this breaks up and divides the space. I find it quite luxurious that you walk from your entertaining spaces, that big kitchen, living dining, external area through this marble forecourt."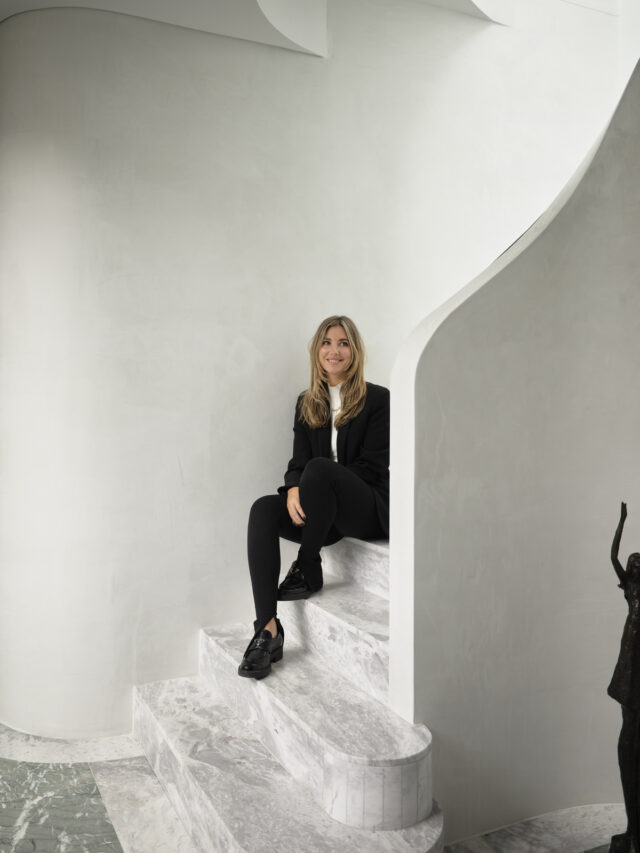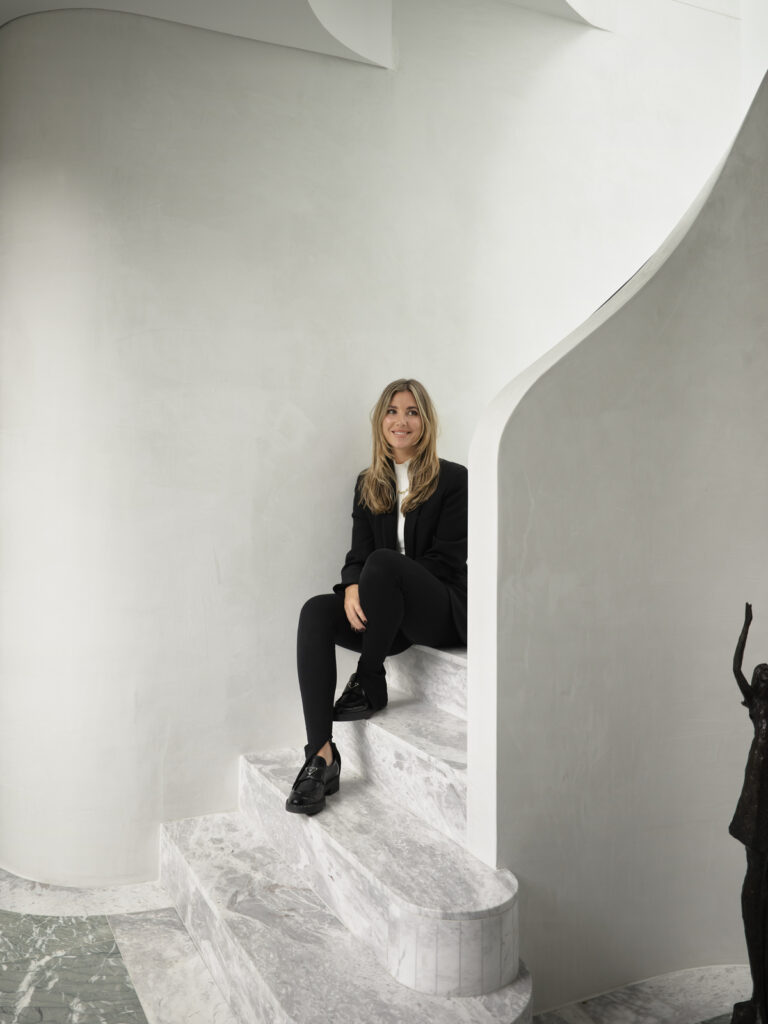 Shona, who graduated with an architecture degree from UTS in 2017, started her own studio when she realised she was more drawn to interiors. But she thinks her architecture training gives her a very useful holistic approach. She was thrilled to be shortlisted in the Australian Interior Design Awards amongst people she has looked up to for years.
Photography: Anson Smart | Photo styling: Claire Delmar | Construction: Airth Building | Architecture: Van Rooijen Meyers Architects | Landscape architecture: Dangar Basin Smith
http://feeds.apartmenttherapy.com/apartmenttherapy/main
http://centsationalgirl.com/feed
https://www.alure.com/feed
https://www.beyondexteriors.com/feed/
https://homeuptick.com/feed/
https://colonyhome.com/feed/
https://homeimprovementblogs.com/hg-blog/feed/
https://www.recoveryhomeimprovement.com/blog/feed/
https://www.diamondcertified.org/category/home-improvement/feed/
https://thouswell.com/feed/
http://www.customhomeimprovements.com/blog/feed
https://www.yourprojectloan.com/blog/feed/
https://www.homeadviceguide.com/feed
https://www.theguardian.com/money/homeimprovements/rss
https://www.azuremagazine.com/category/interiors/feed/
https://chiquehomeliving.com/feed/
https://ladesignconcepts.com/feed/
https://hammerandhand.com/field-notes/feed/
https://www.crddesignbuild.com/blog/rss.xml
https://www.nussconstruction.com/feed/
https://diyhuntress.com/feed/
https://todayshomeowner.com/category/home-improvement/feed/
https://koolfog.com/feed/
https://www.renocompare.com/feed/
https://upgradedhome.com/feed/
https://diamondinteriors.org/feed/
http://www.jacquelynclark.com/feed/
https://house-nerd.com/feed/
https://www.atlantaroofingspecialists.com/blog/feed/
https://www.pjfitz.com/blog/feed/
https://www.homeimprovementideaz.com/feed
https://www.homemyheaven.co.uk/feed/
https://www.homedecorbuzz.com/feed/
https://www.youtube.com/feeds/videos.xml?user=hardwarehelper
https://www.homeadviceguide.com/feed
https://www.smarthomeimprovementpeople.co.uk/feed/
https://www.happycozyhouse.com/feed/
http://theinterioreditor.com/feed/
https://betterdecoratingbible.com/feed/
https://residencetalk.com/feed
https://www.classichomeremodeling.com/feed/
https://wilkerdos.com/feed/
https://rss2.feedspot.com/https://www.homedecoreidea.com/?context=85415817
https://www.sadecor.co.za/interior-design-blog/feed/
https://thehomepros.us/feed/
https://hammerandhand.com/field-notes/feed/
https://elegantsi.com/blog?format=rss
https://www.cloudy2clearwindows.co.uk/feed/
https://www.pjfitz.com/blog/feed/
http://thedesignfiles.net/feed/
https://www.liftyourconcrete.com/feed/
http://www.home-designing.com/feed
https://mccoymart.com/post/feed/
https://windowwellexperts.com/feed/
https://johnmccarterconstruction.com/blog/feed/
https://www.happycozyhouse.com/feed/
https://www.dorisleslieblau.com/blog/feed/
https://pulpdesignstudios.com/feed/
https://www.homedecorexpert.com/feed
https://www.windowsonwashington.net/blog-full/rss.xml
https://pepuphome.com/feed/
https://www.nussconstruction.com/feed/
https://www.beyondexteriors.com/feed/
https://www.youtube.com/feeds/videos.xml?user=idahopainters
https://www.strategiesonline.net/feed/
https://rss2.feedspot.com/https://www.homedecoreidea.com/?context=85415817
https://www.cedarsquarehomes.com/blog/feed/
https://www.warnerroofinginc.com/feed
https://www.youtube.com/feeds/videos.xml?user=idahopainters
https://decoholic.org/feed/
https://www.residencestyle.com/feed/
http://jenron-designs.com/feed/
https://homevgarden.com/feed/
https://rss2.feedspot.com/https://www.disd.edu/blog/?context=2528329510
https://homeaddons.com/feed/
http://feeds.feedburner.com/PuffsRuffsNStuffs
https://homeyimprovements.com/feed/
https://www.revealhomestyle.com/feed/
https://www.trendir.com/feed/
https://johnmccarterconstruction.com/blog/feed/
http://www.myownhomeblog.com/feed
https://www.remodelista.com/rss
https://www.bartsremodel.com/feed
https://greenhousecenter.net/feed/
https://www.blogger.com/feeds/4148751715065130959/posts/default
http://www.home-improvement-blog.co.uk/feed/
https://www.atlantaroofingspecialists.com/blog/feed/
https://marieflanigan.com/feed/
https://www.windowsonwashington.net/blog-full/rss.xml
https://pizzchzz.com/blog/feed/
http://blog.homelane.com/feed/?x=1
http://feeds.feedburner.com/carlaastondesigned
https://shabbychichouse.com/feed/
https://majorshomeimprovement.com/blog/feed/
http://www.thedesignsheppard.com/feed
https://studio-mcgee.com/feed/
https://www.dezeen.com/interiors/feed/
https://keywordconnects.com/feed/
https://www.feedspot.com/infiniterss.php?_src=followbtn&followfeedid=5258867&q=site:
https://www.bali-interiors.com/feed/
https://happyinteriorblog.com/feed/atom/
https://www.feedspot.com/infiniterss.php?_src=followbtn&followfeedid=5222342&q=site:
https://diyhuntress.com/feed/
https://homeownersshow.podbean.com/feed.xml
https://yorkavenueblog.com/category/interior-design/feed/
https://houseprohomeimprovement.com/feed/
https://www.alure.com/feed
https://www.sehbac.com/blog/feed/
https://ctgcontracting.com/feed/
http://www.myscandinavianhome.com/feeds/posts/default?alt=rss
http://www.customhomeimprovements.com/blog/feed
https://www.homemyheaven.co.uk/feed/
https://michealadianedesigns.com/feed/
https://monkshomeimprovements.com/blog/feed/
https://laurelberninteriors.com/feed/
https://cosyhomeswindows.com/feed/
https://arjayswf.com/blog/feed/
https://sarahshermansamuel.com/feed/
Interior
https://www.cahillsidingandwindows.com/feed/
https://mccoymart.com/post/feed/
https://pro-flooring.com/feed/
https://www.brothersservices.com/blog/rss.xml
https://www.strategiesonline.net/feed/
https://arjayswf.com/blog/feed/
https://www.revealhomestyle.com/feed/
https://www.businessbrokerageblogs.com/feed/
http://mydesignchic.com/feed/
https://www.easyhomeimprovement.co.uk/feed/
http://allenrothhq.com/blog/feed/
https://beckiowens.com/feed/
https://www.dwell.com/@dwell/rss
https://www.italianbark.com/feed/
https://homeyimprovements.com/feed/
https://www.comfortwindows.com/blog/feed/
https://greenhousecenter.net/feed/
https://www.cloudy2clearwindows.co.uk/feed/
https://essenziale-hd.com/feed/
https://www.texasremodelteam.com/blog/rss/
https://windowwellexperts.com/feed/
https://www.yourprojectloan.com/blog/feed/
https://www.bartsremodel.com/feed
https://www.feedspot.com/infiniterss.php?_src=followbtn&followfeedid=5308407&q=site:
https://www.easyhomeimprovement.co.uk/feed/
https://www.classichomeremodeling.com/feed/
https://www.maisondepax.com/feed/
https://rss2.feedspot.com/https://dubai-curtains.ae/blog.php?context=2507937760
https://www.pufikhomes.com/en/feed/
https://shabbychichouse.com/feed/
https://www.feedspot.com/infiniterss.php?_src=followbtn&followfeedid=4371909&q=site:
https://allamericanrfg.com/feed/
https://www.feedspot.com/infiniterss.php?_src=followbtn&followfeedid=5058140&q=site:
http://www.minimalisti.com/feed
http://www.diohomeimprovements.com/feed
http://feeds.feedburner.com/PuffsRuffsNStuffs
http://design-milk.com/feed/
https://www.renocompare.com/feed/
https://www.rbacentralpa.com/feed/
https://www.comfortwindows.com/blog/feed/
https://www.blesserhouse.com/category/home-improvement/feed/
https://www.mrright.in/ideas/services/home-improvement/feed/
https://lindusconstruction.com/feed/
https://www.toolsreviewss.com/feed/
https://www.cedarsquarehomes.com/blog/feed/
http://www.brooklynlimestone.com/feeds/posts/default?alt=rss
https://renovationize.com/feed/
https://www.addbuild.com.au/blog/feed/
https://onekindesign.com/feed/
https://houseandhome.com/feed/
https://majorshomeimprovement.com/blog/feed/
https://upgradedhome.com/feed/
https://www.ukhomeimprovement.co.uk/feed/
https://www.youtube.com/feeds/videos.xml?user=hardwarehelper
https://www.feedspot.com/infiniterss.php?_src=followbtn&followfeedid=5258868&q=site:
http://feeds.feedburner.com/wordpress/woWq
http://www.idealhome.co.uk/feed
https://www.homedecorexpert.com/feed
https://renovationize.com/feed/
https://www.recoveryhomeimprovement.com/blog/feed/
https://blog.effortless-style.com/feed/
https://homeaddons.com/feed/
https://www.ehdesignco.com/blog-feed.xml
https://www.homedsgn.com/feed/
https://www.smarthomeimprovementpeople.co.uk/feed/
https://homeuptick.com/feed/
https://diyshowoff.com/feed/
https://www.ukhomeimprovement.co.uk/feed/
https://www.echolsroofing.com/blog/feed/
https://www.maxinebrady.com/feed/
https://www.feedspot.com/infiniterss.php?_src=followbtn&followfeedid=5258866&q=site:
https://stylebyemilyhenderson.com/feed
https://colonyhome.com/feed/
https://homevgarden.com/feed/
https://frippo.com/feed/
https://lindusconstruction.com/feed/
https://www.nytimes.com/svc/collections/v1/publish/http://www.nytimes.com/topic/subject/home-repairs-and-improvements/rss.xml
https://signaturethings.com/blog/rss/1
https://www.brothersservices.com/blog/rss.xml
https://www.feedspot.com/infiniterss.php?_src=followbtn&followfeedid=4371909&q=site:
https://koolfog.com/feed/
https://interiorstylehunter.com/feed/
https://inmyownstyle.com/feed
http://grandrapidshomepros.com/feed/
https://flapierre.com/feed/
https://juniperhome.com/feed/
https://www.toolsreviewss.com/feed/
https://diyshowoff.com/feed/
https://www.midwestplus.com/blog/feed/
http://feeds.feedburner.com/HomeImprovementProfessorSharingKnowledgeOfHomeImprovement
https://www.nytimes.com/svc/collections/v1/publish/http://www.nytimes.com/topic/subject/home-repairs-and-improvements/rss.xml
https://deardesigner.co.uk/feed/
https://www.diamondcertified.org/category/home-improvement/feed/
https://keywordconnects.com/feed/
https://lindamerrill.com/feed/
https://ctgcontracting.com/feed/
https://blog.justinablakeney.com/feed
https://todayshomeowner.com/category/home-improvement/feed/
https://centeredbydesign.com/feed/
https://houseprohomeimprovement.com/feed/
https://www.sehbac.com/blog/feed/
https://www.diydoctor.org.uk/blog/feed/
https://residencetalk.com/feed
https://feeds.feedburner.com/younghouselove
http://blog.tappme.com/feed/
https://www.beantownhi.com/blog-feed.xml
https://www.rbacentralpa.com/feed/
https://www.beantownhi.com/blog-feed.xml
https://www.decor8blog.com/blog?format=RSS&x=1
https://www.ratedpeople.com/blog//feed
https://pepuphome.com/feed/
https://www.younghouselove.com/feed/
https://www.homeimprovementideaz.com/feed
https://cosyhomeswindows.com/feed/
http://allenrothhq.com/blog/feed/
https://www.ratedpeople.com/blog//feed
https://www.feedspot.com/infiniterss.php?_src=followbtn&followfeedid=4477572&q=site:
https://jclicht.com/blog/feed/
https://monkshomeimprovements.com/blog/feed/
http://laurauinteriordesign.com/feed/
https://www.diydoctor.org.uk/blog/feed/
https://www.theguardian.com/money/homeimprovements/rss
https://homeimprovementblogs.com/hg-blog/feed/
https://houseintegrals.com/feed/
https://www.thedesignchaser.com/feeds/posts/default?alt=rss
https://www.texasremodelteam.com/blog/rss/
https://www.artsychicksrule.com/feed/
https://gatesinteriordesign.com/feed/
https://homescute.com/feed
https://flapierre.com/feed/
http://www.myownhomeblog.com/feed
https://www.echolsroofing.com/blog/feed/
https://homescute.com/feed
https://www.blogger.com/feeds/4148751715065130959/posts/default
https://www.younghouselove.com/feed/
https://homeownersshow.podbean.com/feed.xml
https://www.desiretoinspire.net/feed/
https://eye-swoon.com/feed/

https://catesthill.com/feed/
https://www.warnerroofinginc.com/feed
https://thecoolhunter.net/category/design/feed/
https://shoproomideas.com/feed/
https://www.addbuild.com.au/blog/feed/
https://www.kravelv.com/feed/
https://www.designservicesltd.com/feed/
https://www.kravelv.com/feed/
http://www.diohomeimprovements.com/feed
https://www.mrright.in/ideas/services/home-improvement/feed/
https://www.decoraid.com/feed/
https://blog.thedpages.com/feed/
http://www.home-improvement-blog.co.uk/feed/
https://www.midwestplus.com/blog/feed/
https://www.decorilla.com/online-decorating/feed/
https://www.crddesignbuild.com/blog/rss.xml
https://wilkerdos.com/feed/
http://feeds.feedburner.com/ColourMeHappy
https://www.liftyourconcrete.com/feed/
https://cocolapinedesign.com/feed/
https://jclicht.com/blog/feed/
http://centsationalgirl.com/feed
https://pizzchzz.com/blog/feed/
https://thehomepros.us/feed/
http://grandrapidshomepros.com/feed/
https://www.interiorzine.com/feed/
https://pro-flooring.com/feed/
https://ohidesignstudio.com/feed/
https://allamericanrfg.com/feed/
http://blog.tappme.com/feed/
https://www.feedspot.com/infiniterss.php?_src=followbtn&followfeedid=5264702&q=site:
https://frippo.com/feed/
http://www.janelockhart.com/blog/feed/
https://www.blesserhouse.com/category/home-improvement/feed/
https://www.cahillsidingandwindows.com/feed/
http://cococozy.com/feed/
https://theinteriorsaddict.com/feed
https://www.designhunter.co.uk/home?format=rss
https://lobsterandswan.com/feed/
http://feeds2.feedburner.com/FreshDesignBlog
https://www.decoist.com/feed/
http://feeds.feedburner.com/HomeImprovementProfessorSharingKnowledgeOfHomeImprovement
https://www.katrinaleechambers.com/feed/